Artwork Guidelines
Preferred Art Files
For best output, please supply art files in PDF, AI, EPS, JPG, PNG or TIFF formats. 
Vector artwork is best
Photos should be supplied at a minimum of 300 dots per inch (dpi) at full print size
Please supply in CMYK color format
No graphic design software? No worries — simply use Microsoft Word or Google Docs and type out what you would like to present, then save it and send us a copy. We will layout your imprint and send a proof back to you for your review.  
---
Imprinted Calendars
Personalize our standard predesigned calendars with your custom imprint and make it your own! Use these quick-reference icons to easily see what's included:

Full-Color Imprint
Calendars displaying this icon are printed in vibrant full-color/four-color process (cmyk). The high-resolution photo quality imprinting is perfect for headshots, full-color logos, brand identity and more. Exact PMS ink matching not included.
 

1-Color Imprint (with gradients & halftones)
Calendars displaying this icon are printed in 1-standard ink color. These calendar titles allow for the imprinting of grey-scaled images (B+W photos), gradients & halftones standard. 
1-Color Imprint (without gradients & halftones)
Calendars displaying this icon are typically hot-stamped in 1-standard foil or ink color. Solid text, straight-line art graphics and custom logos (outline or silhouette) can be included. However, grey-scaled images, and gradients & halftones are not allowed with these calendar titles.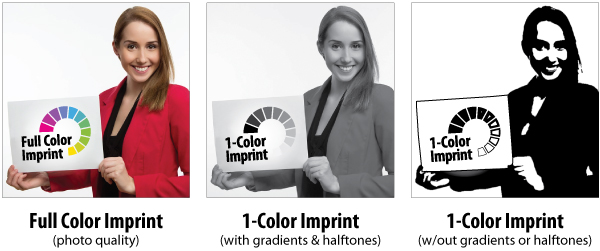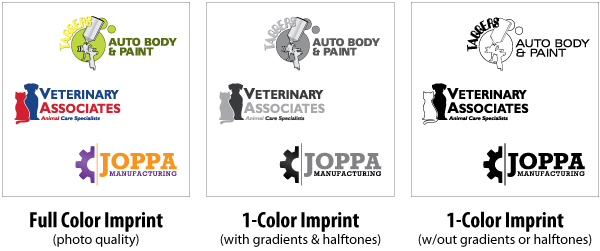 ---
Bleeds & Margins
The margins on our 'imprinted' or 'standard' calendars are taken into consideration, so you can use up the entire ad/imprint area referenced in the product specifications. Where a full bleed option is available, only the background color or graphic should extend past designated imprint area.
Your document size should be saved at the overall art size including a 1/8" bleed area on all sides. For example, a photo with the finished size of 11" x 8-1/2" should be supplied at 11-1/4" x 8-3/4".
We recommend keeping at minimum a 1/4" margin between all critical text & graphics and the final cut edge of the document.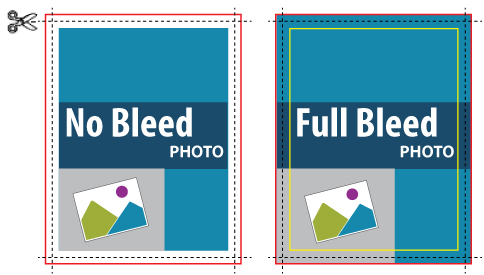 (Red line indicates full artboard with bleed area; dotted line indicates cut line; green line indicates the recommended safe line for all critical text and graphics)
---
Free Basic Setup + PDF Proofs
 
Our 'imprinted' or 'standard' calendars include basic setup using your supplied text/copy, logo(s), photo(s), and layout instructions to create or recreate your personalized calendar imprint.    
For 'custom' calendars, we include placing your print-ready cover and monthly images (with bottom ad imprints) into our standard template, with basic calendar-grid customizations available.
One round of PDF proof revisions is included.
---
Additional Artwork Assistance
Graphic design services offered at $80/hour, billed in 30 min. increments.  
Logo clean-up/redrawing
Layout design
Custom calendar design
Photo editing & collage setup