Artwork Guidelines
Preferred Art Files
For best output, please supply art files in PDF, AI, EPS, JPG, PNG or TIFF formats. 
Vector artwork is best.
Photos should be supplied at a minimum of 300 dots per inch (dpi) at full print size
Please supply in CMYK color format
---
Imprinted Color Options
Use these quick-reference icons represented in the product images to easily see what's included for color:
Full-Color Imprint
Calendars displaying this icon are printed in vibrant full-color/four-color process (cmyk). The high-resolution photo quality imprinting is perfect for headshots, full-color logos, brand identity and more. Exact PMS ink matching not included.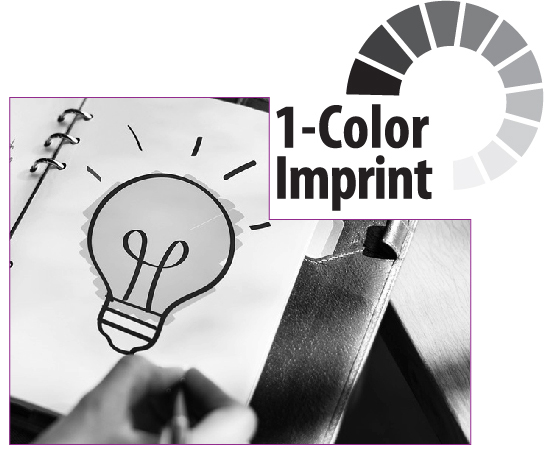 1-Color Imprint (with gradients & halftones)
Calendars displaying this icon are printed in 1-standard ink color. These calendar titles allow for the imprinting of grey-scaled images (B+W photos), gradients & halftones standard.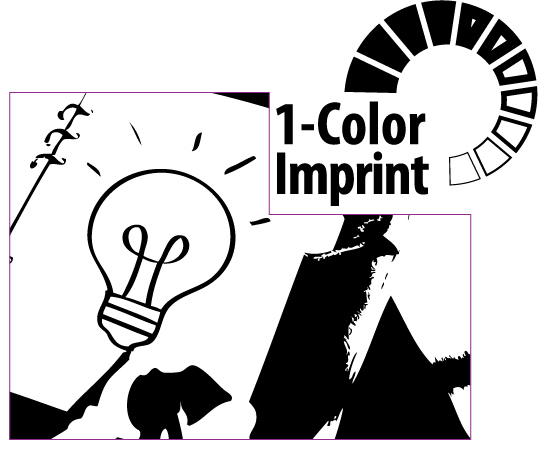 1-Color Imprint (without gradients & halftones)
Calendars displaying this icon are typically hot-stamped in 1-standard foil or ink color. Solid text, straight-line art graphics and custom logos (outline or silhouette) can be included. However, grey-scaled images, and gradients & halftones are not allowed with these calendar titles.
---
Bleeds & Margins
The margins on our 'imprinted' or 'standard' calendars are taken into consideration, so you can use up the entire ad/imprint area referenced in the product specifications. Where a full bleed option is available, only the background color or graphic should extend past designated imprint area.
Your document size should be saved at the overall art size including a 1/8" bleed area on all sides. For example, a photo with the finished size of 11" x 8-1/2" should be supplied at 11-1/4" x 8-3/4".
We recommend keeping at minimum a 1/4" margin between all critical text & graphics and the final cut edge of the document.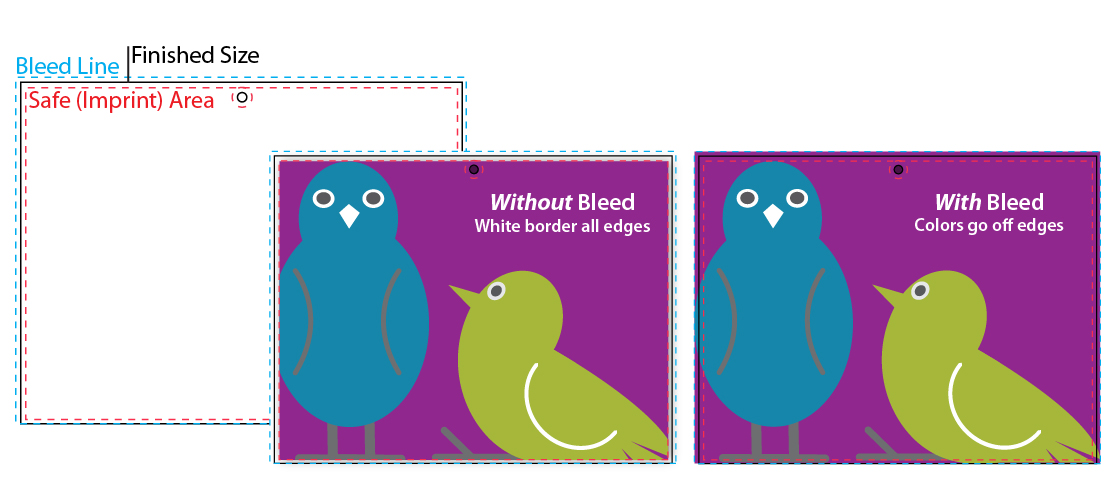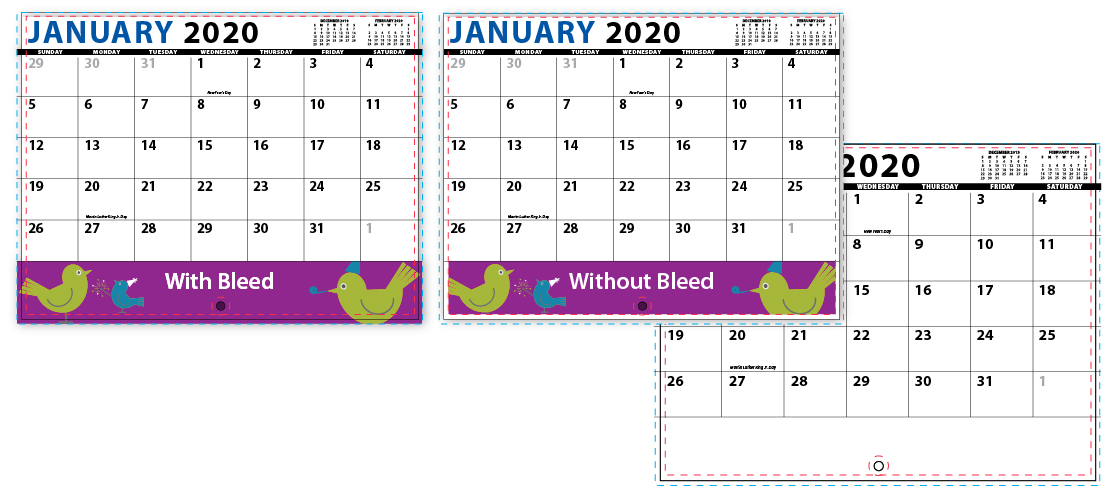 Click Here to view and download a PDF for a Single Image Imprint Template and a Bottom Ad Imprint Template.
---
Basic Graphic Design Assistance
Our 'imprinted' or 'standard' calendars include basic setup using your supplied text/copy, logo(s), photo(s), and layout instructions to create or recreate your personalized calendar imprint. 
For free, we offer this basic graphic design assistance during artwork set-up:
Cropping/resizing photos
Small text additions (photo credits, photo titles, etc.)
Re-typesetting small amounts of text 
Adding simple graphical elements (squares around text, circles around text, etc.)
Minor logo touch-up or simple replacement
Changing layout
Free graphic design assistance does not include:
Re-typesetting large amounts of text
Custom logo touch-up, re-creation, or design
Creating complex graphical additions
---
Calendar Artwork/Imprint Proofs
Proof approval is required on all standard imprinted and custom photo calendar orders prior to releasing the job to production with the exception of exact reorders using the artwork saved on file.  It is our clients responsibility to ensure that the proof is correct in all areas.  Please be sure to double check spelling, grammar and layout before approving .   Due to the different printing processes, office monitor & printer calibrations,  your printed order may not be an exact color match to the proof.  ValueCalendars.com, LLC will only reprint or refund approved orders with production errors of our own, using your original approved art file.
Free Emailed PDF Proofs
For Custom Photo Calendars, we offer the initial PDF proof setup (placing your print-ready cover and monthly images with bottom ad imprints into our standard template, with basic calendar-grid customization), with the options for 1-round of edits with a second emailed PDF proof if needed.  Graphic design fees will be incurred for additional artwork changes/PDF proof requests.
For Standard Imprinted Calendars, after the initial PDF proof setup, you will have the ability to go through multiple rounds of artwork changes with updated proofs without incurring any graphic design fees (within reason).  Graphic design fees may be incurred by customers requiring an excessive number of imprint artwork changes/updated proofs (exceeding 6-rounds after initial setup).
It is always our intent to process ALL ORDERS without any additional fees.  We highly recommend reviewing all graphic assets and advertising copy for quality and accuracy prior to order submission to ensure to smoothest design setup process possible.  
All 
Hard Copy Proofs
Digitally printed imprint proofs are available upon request for most items, additional fees may apply. 
Press proofs are available on many of our custom photo calendar products; billed at $125.00 each.  Please note, all press proofs are created on digital equipment, even if the final bulk printed calendar product is produced on an offset press.