Catholic

Shop our customizable Catholic religious calendars designed to show off your promotional imprint all year long: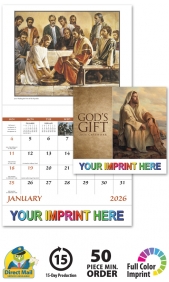 Staple Bound; Drop Ad Imprint
Staple Bound; Drop Ad Imprint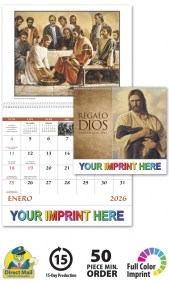 Spiral Bound; Drop Ad Imprint
Bottom Components:
Promotional Catholic Bible Verse Calendar Printing Service For Business
Let ValueCalendars.com help with your custom imprinted Catholic Bible Verse Calendars. Beautifully illustrated reproductions of classic religious art, these promotional calendars detail Catholic liturgy, including all holy days and observations on a daily and monthly basis. The large imprint areas are perfect for displaying your churches information, CCD, confession and service hours. These popular religious Catholic calendars will typically feature a split imprint area between a church and community sponsors.  A local company (often funeral homes) will work in conjunction with local churches, discussing the custom imprint information and congregation size, before donating the printed calendars to the church for free distribution into the community.  A clear win-win situation for everyone involved.